"Without training, it's not how they're going to crash - it's WHEN."
Rick Holtgrave
Coldwater Fire Department
Coldwater, MI, USA
"Figure it out without the training? Absolutely not. You have to have the training."
William Franks
Mansfield Fire Department
Mansfield, TX, USA
"To train, or not to train? According to the Perry Clear Creek, IN Fire Department this should NEVER be a question."
Joe McWhorter JR.
Perry Clear-Creek Fire Department
Perry Clear-Creek, IN, USA
"The training really gives you a concept of what this thing is capable of doing. You think, 'Wow! If I can do this, what else can I do?"
Larry Waligorski
Norman Volunteer Fire Department
Norman, MI, USA
"I guess I made the mistake of thinking, like a lot of people, that it's like operating a boat. I found out real quickly that it's more like flying a helicopter. Just reading the manual is not going to get you there. You need some hands-on training with a professional leaning over your shoulder telling you what you're doing right or wrong."
Mark Ellis
Hazelton Volunteer Fire Department
Hazelton, IN, USA
"In the hands of a well-trained pilot, hovercraft can quickly and safely access almost any environment."
Trent Nunemaker
Snohomish County Fire Department
Oso, WA, USA
"I wouldn't recommend anybody get in it and just take off. I thought it was going to be easy at first, until we got to using it. It has a lot of factors that affect it, like the wind," Jackson explains.
Donna Jackson
Caddo Parish Sheriff's Department
Shreveport, LA, USA
"I'd researched hovercraft for 10 years. A lot of manufacturers are fly-by-nights, they come and go, but you need a company who will be there for you. A big seller was Neoteric's reversing capabilities - that's what Chris' hovercraft are known for. And it's great; it gets us into areas our jet boat can't get into. With brakes you're able to control that hovercraft in an uncontrollable environment ... Christopher Cockerell invented the hovercraft and I think Chris Fitzgerald perfected it! It's a great little machine."
Scot Sinclaire
Central Fraser Valley Search and Rescue Society
Abbotsford, British Columbia, Canada
"Tampere Area Rescue in Finland tested the Hovertrek™ Rescue and realized its value immediately. They purchased their Hovertrek™ in April 2007, and named it Liituri. In autumn and spring, when lake ice is thin in Finland, the hovercraft has performed rescues at least every second day. Tampere Area Rescue reports that the Hovertrek™ Rescue is light enough to handle well and has excellent maneuvering capabilities, thanks to the reverse thrust system.
They work in extremely hard weather conditions and the hovercraft is working beautifully for them. They are always recommending it to other rescue officers, and now expect to order additional units, so two more Neoteric rescue hovercraft and trailers will be in use in Tampere next winter."
(See more photos in the Craftima Oy gallery)
Markku Huvinen
President
Craftima Oy
Vantaa, Finland
---
"Thanks, Ralph and Chris, for all your advice on repairs to this wonderful craft! I just love it and it was the highlight of our open house! I gave rides to kids for over 2.5 hours straight and everyone walked away with a huge smile!
What a awesome addition to our fire dept. !!!!!"
Mike Ahrens
Assistant Chief
Big Flats Fire Department
Big Flats, New York
---
"The Utah Test and Training Range purchased two Neoteric hovercraft in August 2005 and on March 31, 2006 we completed our first rescue of a downed F-16 aircraft with one pilot. We were in a race against time because life flight was dispatched at the same time we were. We launched our hovercraft and beat the life flight helicopter to the pilot. Luckily the ejection from the F-16 was successful and we found him in good health.
He was amazed to see us there and surprised we beat the helo to his location. We launched from land then hit the water, then land, water, and land again. This just goes to show you the hovercraft is very versatile."
Cory Lingelbach
Rescue Hovercraft Training Officer
Utah Test and Training Range
U.S. Department of Defense
---
June 2007:
"Wylie Fire Department's two Neoteric rescue hovercraft served a critical function during the 18 June flood disaster in North Texas. See the hovercraft perform a flood rescue in the CNN video.
Captain Brian Ritter reports:
"Our two Neoteric rescue hovercraft impacted many lives on June 18. Gainesville is an hour northwest of us near the Oklahoma border, and we were the quickest team to respond.
Wylie Fire Department's Neoteric Hovercraft received national news coverage for their recent flood rescue operations in North Texas. ABC News photo

Our team arrived and was in action before the water crested at the roof lines, and we rescued 25-35 victims in imminent danger.

Of great importance, we were able to provide intelligence about flood conditions because our hovercraft could access areas that no other vehicle could even come close to. I am sure you saw on CNN and other channels that the other rescue teams had to pull their rafts and boats around the flooded areas. At least two rescue boats were lost, as well as numerous jet skis.

So far this spring, our hovercraft have been deployed five times throughout North Texas. Our rapid response team is now recognized by the State of Texas Department of Emergency Management as a readily available solution to urban flooding.

As always, if anyone has any questions, or needs input, we will be happy to explain all the benefits of using Neoteric Hovercraft."

March 2006:
"All in all, we couldn't be more pleased with their performance. Two weeks ago we received 10 inches of rain in about 6 hours. The hovercraft were deployed many times in a short period of time to assist stranded motorists and check locally flooded homes. They performed better than expected."

Feb. 2006:
"Officer Blythe and I have about 10 hours logged on our new machines. Everything has worked out well. We are about to send them for our special Fire Department paint scheme. We will send photos."

June 2004:
"Thanks again for the VERY informative [hovercraft pilot training] class. It was a pleasure meeting you and obviously you made a real impression on myself and Brandon. I look forward to working with you and relying on your expertise.
Lt. Brian Ritter and Lt. Brandon Blythe
Special Operations
Wylie Fire Department
Dallas, Texas
---
"Overall I love the craft, it's a joy to operate, I'm quite impressed. It is a huge improvement over our earlier Neoteric model which we operated since 1990."
"We have developed a special technique for swift water body dragging using the craft's reverse thrust."
Scott Schroeder
Deputy
Mecosta County Sheriff's Department, Michigan
Mecosta County Sheriff's Department Hovercraft Rescue Team in action during a rescue and recovery mission on the Muskegon River.
11 April 2006
"We had a demo a couple of days ago and it was covered by two television stations and a daily newspaper. The hovercraft performed like a charm! We love it so far."
"We really like the hovercraft and enjoyed our day with Neoteric. Feel free to use us as a reference to the departments."
Detective Captain Gary Lenon
Mecosta County Sheriff's Department
Big Rapids, Michigan USA
glenon@co.mecosta.mi.us
"It worked just like it was designed to...we were able to negotiate the hovercraft through the rapids right up to where (the victim) was waiting."
Gary Lenon
Sheriff's Detective
Mecosta County, Michigan
---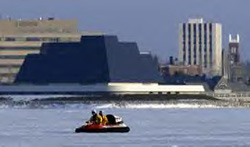 March 2005: Capt. David Ogren and firefighter Brent Arnson return to shore after performing a hovercraft rescue operation when a quad runner fell through the ice on Muskegon Lake.

"On December 30, 2005, we received a call that several hunters were trapped on an ice floe where their boat got stuck after an accident due to the passing of a large ship. Someone on shore called 911 and our hovercraft was dispatched along with the US Coast Guard helicopter and the Muskegon Fire Department, who has a Scat hovercraft. Muskegon got started first, but I suited up, launched and overtook them in our Hovertrek Rescue.

It was awesome; I love this machine! I got out on the ice and had radio contact with all other parties involved. I arrived first, on a very thin ice shelf that varied in thickness from 1/2 an inch to 3 inches in places. It was windy, with a 1 to 2-foot chop on the open water, but our Hovertrek flew exceptionally well. Reverse thrust makes all the difference, enabling me to control the craft in the wind. The engine performed wonderfully and had plenty of power.

I was able to assist the hunters to launch their boat and to guide them out onto open water, and no one was injured."
Captain David Ogren
North Muskegon Fire Department
North Muskegon, Michigan USA
Note: Read more in North Muskegon Fire Department: hovercraft rescue pioneers.
---
"Most of the terrain under the Utah Test and Training Range consists of mudflats. During the wet months, traversing across the Range is extremely difficult, even with ATVs. [Our Neoteric] hovercraft provide the capability to move across any soil conditions. The salt flats are full of crevices and holes filled with water that slowed our response times down, but the hovercraft will glide over the uneven terrain.

Use of the hovercraft isn't limited to aircraft crashes. They will also be used for search and rescue operations and to respond to vehicle accidents along the I-80 corridor. Last winter there were about 25 accidents where people ended up in the canals along I-80. Tooele County emergency responders had to send for boats after their initial response. With the hovercraft, we'll be able to get to the victims a lot faster.

They are state of the art … it's good to have the equipment necessary for a timely response."

Ron Short, Director
David Kallman, Fire Chief
Utah Test and Training Range
U.S. Department of Defense
---
"Happy with every aspect of the craft."
Engineer Joe Nauman
Chillicothe Fire Department, Illinois
---
"On March 1st 2004, our agricultural irrigation ditches were opened and filled with water in preparation for the spring planting. These irrigation ditches run through the city of Albuquerque as well as through many of its neighborhoods.

As a part of our Ditch Water Safety Taskforce, we had a press conference in which we performed a mock water rescue to remind parents and children about the hazards of the ditches and their swift water. I have enclosed mock rescue pictures and I will also send a video of all the local news coverage.

I also want to thank you again for your support with the hovercraft. Your dedication to the rescue community is strong, and is greatly appreciated by all of us. Your hovercraft and support give us the highest confidence when we are out there doing our job!"
Sergeant William H. Taylor
City of Alburquerque, Open Space Police Department

---
"Sunday, December 23rd [2007] is my last day with Anchorage Airport Police & Fire. It's been my extreme pleasure working with you over the years. You have always provided outstanding support for our two hovercraft. The fact that our hovercraft have held up so well under our extreme Alaskan conditions is a testament to the quality of the product."
"...Our hovercraft are not only practical, but absolutely the best rescue tool for our conditions. We know we have no more than a one hour window to have the opportunity to rescue survivors of a crash into cold water. Particularly in the winter, the condition of the mudflats and ice floes in Cook Inlet are such that these hovercraft provide the quickest response. We can normally fly over and around ice barriers, whereas Anchorage Fire Department's boats are not able to travel through the ice at all. The hovercraft give us the most options to deploy quickly. If we encounter a significant ice shelf at the edge of the mudflats, we're able to simply pick up the hovercraft with four people and carry it around the barrier. We've found both the Fuji and Hirth engines to be reliable in both fresh and salt water. The craft itself is rugged and reliable."
Sgt. Bill Weiss
Anchorage Airport Police & Fire Rescue
---
"Having the ability to traverse all types of terrain both safely and expediently truly makes this hovercraft a must-have piece of water rescue equipment. We had our first night time training evaluation with it and although operation was a bit slower, it performed wonderfully. To all the crew at Neoteric, not only are you providing recreational opportunities for people, but you are saving lives, both rescuers and victims alike. That is something anyone should be proud to be part of."
Captain Chris Hughes
Wilkes-Barre, Pennsylvania
---
"It's about the price of a good motorcycle, and that's nothing if you can use it to save just one life."
Dick Setliff
Director of Emergency Management
Vigo County, Indiana
---
"My Hovertrek-Rescue keeps me above the danger, not in it"
Ty Weaver
Centerville, Virginia
---
"It's a remarkable tool. A boat or helicopter couldn't reach her because her (flooded) home was surrounded by trees and fences. Without the hovercraft, we could never have saved her. It's simpler and faster to respond with a hovercraft than another vehicle."
Lieutenant Gregg Hipple
Johnson County, Iowa
---
"I've had the hovercraft out for two three-hour flights. It performs very well with four people in it. I'm doing my break-in period on frozen Lake Hood. Both days it was about twenty degree (F) and about twelve knots of wind."
26 March 2002
"We had a large water main break during the night near the southeast side of Lake Hood. Lake Hood is a Sea Plane Base within the Anchorage Airport. This resulted in three ski planes sinking. The water apparently caused the entire section of ice, on which the aircraft were tied down, to collapse and sink - The aircraft still attached to the ice layer, which was now on the bottom of the lake.

Neoteric Hovercraft to the rescue! Andy Helm and I had to fly across a lot of deep and drifted snow to get to the affected section of the lake. Once on scene we were able to start cutting the aircraft tie down lines to prepare for towing the aircraft out of the water. Two tail tie downs had to be cut under water. With the help of the aircraft owners, we were able to tie ropes to the main landing gear of each aircraft. We then used the hovercraft to tow long, heavy cables from tow trucks to each aircraft. During the operation, the water was rapidly turning to heavy slush and the surface was icing over. We used the hovercraft to break through the ice between the aircraft and the tow trucks. Otherwise there would have been no way to get the aircraft out.
We had a fair amount of wind and snow throughout the mission, but were able to maneuver the hovercraft in very tight quarters around the aircraft. The Neoteric Hovercraft handled every part of the mission beautifully - hauling a lot of people and gear over snow, heavy slush and open water, tight maneuvering, and towing heavy cables. Great craft! Timely recovery of three aircraft."
Sgt. Bill Weiss
Anchorage International Airport - Police - Fire - EMS
---
"It would normally have taken all night trying to find the lady and her son but with the hovercraft it only took 20 minutes. It has proved its worth. It was amazing how it opened up our shallow river."
Rick LeCroy
Conservation Office
Centerville, Alabama
---
"Under cover for two months, it started right up. I made a voyage through a flooded creek and rough water. The government has renewed my contract again for drug interdiction work."
Officer Steve Stafford
Lawrence County Sheriff's Department
Bedford, Indiana
---
"Our Hovertrek Rescue Craft (built from a partially assembled kit) far exceeded our expectations, and we're really delighted with it. We've had a major drought here on the Rio Grande, and this is the only craft that works on the river."
Officer William Taylor
City of Albuquerque Police Department
Open Space Division
---
"We have brought people aboard our Workhorse and it's a nice stable platform."
Deputy Chief Bill Cook
Onset Fire Department
Onset, Massachusetts
---

Ministero Dell'Interior, training near Lodi, Italy
---
My name is Mike Patrick and I have the pleasure of owning one of your Hovercraft.

It spends the winter at Larry Taylor's and has been a very useful tool in the past, when the river gets so low that no boat can travel then it is for sure hovercraft time. As I live 10 miles down the 40mile river and the only way is by river!

This summer we had the lowest water in the river rocks sticking up everywhere and a MONSTER FIRE. Your old hover craft was the only thing that could get up and down the river, The BLM Fire Dept. needed to get pumps, Hoses and personnel down river to save historical Cabins, Yes you guessed it my hover craft was hired to do the work and let me tell you one of the boys that I took down was 290 lbs. and his gear was 60lbs and I weigh 220 Lbs and the bottom of the craft had holes in it 3 feet long and 8 inches wide both sides and still did its job! I Patched it with plastic trash cans and pop rivets, no time to fiber glass it, fire people needed to haul people and equipment every day for a couple of weeks!
Mike Patrick
Eagle, Alaska