New Superboat to Speed Up River Rescues
WSB-TV, Atlanta, Georgia USA
15 June 2011
ROSWELL, Ga. - WSB covered another river rescue last night. Johns Creek and Roswell firefighters pulled four teens from the rising Chattahoochee. Beginning this weekend, Roswell first
responders will use a superboat to race to emergencies. Channel Two's Tom Regan got a first look – and a ride …
Regan: There are ordinary boats and then there's the hovercraft. It's sort of an all-terrain water vehicle that can get around most any obstacle in the river, giving it a crucial advantage in an
emergency. The hovercraft gets its name from what it does: it rides on a cushion of pressurized air forced under the craft by a giant fan in back.
Roswell Fire Chief Ricky Spencer: The hovercraft diverts air from the engine through the channels of the craft and it disperses through these skirts through holes. And what that does is raise
the craft up off the water.
Regan: Roswell Fire Chief Ricky Spencer gave me a ride on what's believed to be the first water rescue hovercraft in Georgia. It's very loud, but very smooth; top speed 35 to 40 mph. But
what sets the hovercraft apart is that it rides on a pocket of air, eight to ten inches above the water line.
Spencer: On low water, our aluminum boat can only go so far. [With the hovercraft] we can travel over rocks, shallow water, sandbars.
Regan: The Chief showed me how the hovercraft glided effortlessly through shoals that would have been treacherous or impassable to an ordinary boat.
Spencer: The shoals don't exist anymore for us. Before, they were our obstacle, and we're so excited about the ability of this [hovercraft] to get up the river quicker, to take the obstacles
away that we've had in the past, and make it where we can actually go up and make a difference in someone's life.
Regan: The $58,000 watercraft was purchased with the help of a FEMA grant that covered 90 percent of the cost. River watchers I spoke with were impressed:
Spectator: I thought it was really cool. It was definitely moving a lot faster than we were! I'm sure it will come in handy.
Regan: The Fire Chief tells me he'll be spending part of the summer training other firefighters in driving the hovercraft, but they'll be ready to go whenever there's an emergency.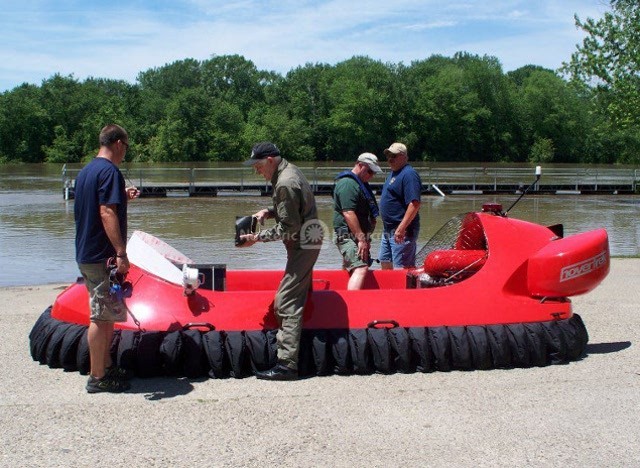 Roswell Fire Chief Ricky Spencer (right) and firefighter Jeremy Adams (left) undergo rescue hovercraft pilot training with Neoteric instructors Chris Fitzgerald and Steve Stafford (2nd & 3rd from left).