Hovercraft can be used on land, water, snow, ice
Daily Clarion, Princeton, Indiana USA
15 August 2011
by Janice Barniak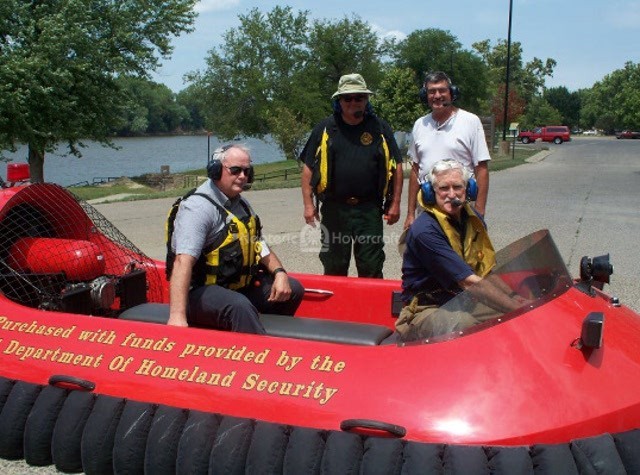 Undergoing flight training in their Neoteric hovercraft are, clockwise from left: Mark Ellis, Secretary/Treasurer; Mike Ellis, Fire Chief; Capt. Stan Capobianco, Indiana Dept. of Homeland Security, and Chris Fitzgerald, President of Neoteric Hovercraft, Inc.
HAZLETON, IN - White River-Hazleton Fire Dept. acquired a Hoosier-made hovercraft Aug. 6 from a company in Terre Haute. Neoteric Hovercraft Inc. manufactures them to send all over the world.
Fire Chief Mike Ellis said when department members went to see the craft, the company had hovercrafts shipping to Sweden, Canada and Hong Kong, where the amphibious crafts will be able to transport up to six rescuers over land, water, snow or ice.
The Hazleton hovercraft is a factory refurbished model actually owned by the Indiana Dept. of Homeland Security, secured through Gibson County Emergency Management Agency director Terry Hedges for mutual aid purposes.
Ellis said the department plans to use the craft for complex rescues during flooding. It can maneuver into spaces where boats might not be able to get through, or in situations when rescues could put rescuers at risk.
John K. Hyneman, a former Marine, came out for a trial run of the hovercraft Monday. He said he experienced similar technology while serving in the military. "It felt almost like flying," he said.
"It could turn quick enough to throw you out," said Ellis.
"I'm glad you didn't do that, I'd show up at home wet. My wife doesn't know I'm here," Hyneman revealed.