USA Today
9 July 2013
By Doug Ferguson, The Associated Press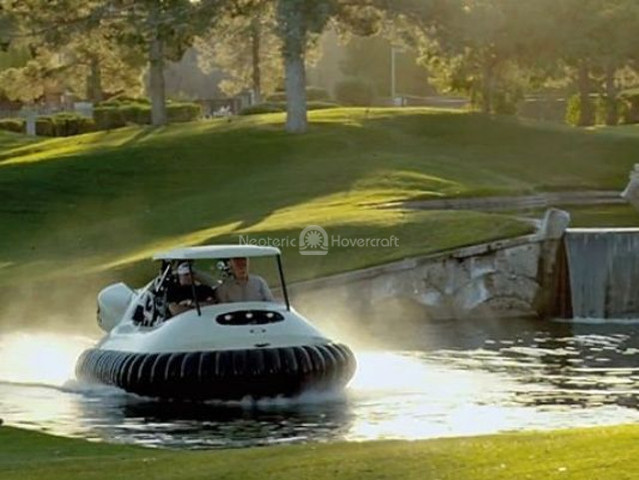 Bubba Watson's hovercraft golf cart.
An Ohio course buys a hovercraft
For the curious and the adventurous, a round of golf at an Ohio course is about to cost a lot more.
Windy Knoll Golf Club tries to keep the price under $40 on the weekend, which includes a cart. That soon will go up to $230 — when the round of golf includes a hovercraft.
Pete Duffey, the managing director of the public course in Springfield, Ohio, was so intrigued by the YouTube video of Bubba Watson skimming over water and through bunkers in a hovercraft built for golf that he called the manufacturer to make sure it was real.
And then he ordered two of them.
"We're always looking for a way to set ourselves apart from the competition," Duffey said Tuesday. "We'll be able to offer something that no one in the area, in the state and at this point in the country can offer."
The golf hovercrafts are made by Neoteric Hovercraft in Terre Haute, Ind., which specializes in light hovercrafts for personal and commercial use. Its clients include government agencies and companies such as Disney World, according to its website.
Neoteric built a golf hovercraft for Oakley, which sponsors Watson and wanted it for corporate events.
Duffey said his first golf hovercraft is to arrive on July 18 and the other a week later. The club plans to launch its new "carts" during a promotional outing on July 27 that is to feature LPGA great Nancy Lopez.
He said the cost would be $230 for golf in the hovercraft. He declined to say how much it cost the club except that it was "10 times the cost of a standard cart."
Why just two?
"We thought it made sense for a foursome to use," he said.
Unlike the video, golfers in the hovercraft can go anywhere. Duffey said there would be a designated area on the front and back nine where the golfers can take it onto the lake. And the club has decided to make the putting green and bunkers off limits, even though Neoteric says it has a footprint pressure 33 times less than the human foot.
He said the club is working with an attorney and its insurance company on liability issues, and that golfers using the craft will have to go through a half-hour presentation on how to drive it.

And how will this help pace of play at the club, one of the top issues in golf?
"It's going to turn heads," Duffey said. "I think other golfers on the course might find themselves so interested in looking at it that if it did slow play down, I don't think it will be noticeable."
For those who don't want a cart or a hovercraft, walking remains an option.