NBC-2 TV
October 30, 2014
By Melissa Crash
Made in the Wabash Valley
(Video transcription)

NBC 2's Melissa Crash takes you inside this company and product, that's made in the Wabash Valley …

Before a Neoteric hovercraft ever skips across a lake or river, it gets its start in a small building off Wabash Avenue in Terre Haute. President Chris Fitzgerald considered the east coast for his headquarters, however he preferred somewhere central instead, and landed right here in Terre Haute.

But how does it work? Hovercraft float on a cushion of air that's forced under the craft by a fan. That causes the machine to lift above the surface.

Their objective is to make the ultimate flying machine. Each machine at Neoteric is built by hand. It could take up to 500 hours to build each one.

Filip Przybysz, the Vice President of Marketing and Sales says, "Our main ones are recreational, rescue, commercial, and military market, and these markets pretty much all have applications for hovercraft, and we adjust our product to suit their needs."

The hovercraft company is making a splash in the Terre Haute economy. It's bringing jobs and workers from all over.

"We contribute in a way by bringing people who are unique, are different, and also take our machines to their application and they have that label that this is a Midwest product that is working for them and is making their work, or their fun, much better," said Przybysz.

Hovercraft are known to be some of the safest vehicles, and that's good news for rescue teams that rely on these kind of machines to save lives. The Hazleton Volunteer Fire Department uses a rescue hovercraft. With their location near many rivers, it's important to be prepared for a hazardous situation.

Mark Ellis, with the Hazleton Fire Department said, "If you can use a boat, use a boat, but this craft is unique that it can run on pavement, it can run on grass, it can run on mud, it can run on bean stubble."

But these hovercraft don't come cheap; they're built exactly to the customer's imagination.

"As you see, we can adjust our machines to customers' needs and these prices pretty much vary. But like I said, the regular would be from $16,000 to $65,000," said Przybysz.

Neoteric and the Hazleton Fire Department stress the importance of training. One wrong turn and it could all go wrong.

"If you're going to have one of these, you've got to have a champion, you have to have a person that's going to champion that craft," said Ellis.

When used right, the hovercraft can be a helpful tool for rescue departments. Hovercraft use less fuel, create less noise, and are known to work better on extreme tasks. Mike Ellis says when someone's in trouble, the craft is easy to load up and get to a location in a hurry.

"If they'll call us, we'll come," said Ellis.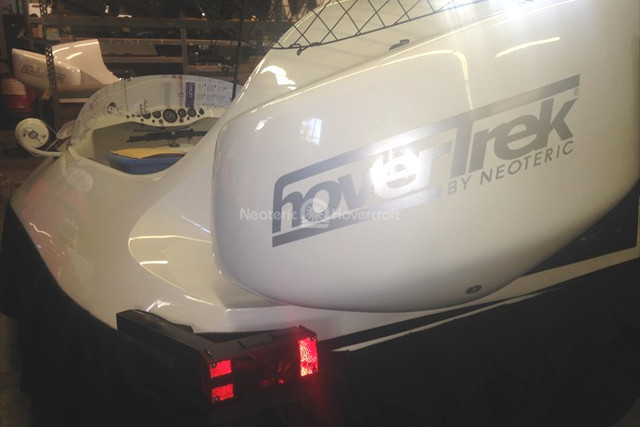 Its patented reverse thrust system makes the Neoteric HoverTrek™
the only hovercraft on the market with effective brakes.
Neoteric has found a way for their machines to be unique, offering their crafts with reversible and stopping capabilities. Officials hope in the long run it can help expand their business and create more jobs for Terre Haute.

"We're trying to open a model training class for the military and then hire many more people that will train locally and would bring extremely well-skilled labor to Terre Haute," said Przybysz.

Whether it's for military services, rescue, or a safe way to fly without a pilot's license, the technology of hovercraft is continuing to evolve and Neoteric Hovercraft Incorporated believes they will continue to fly above the rest.

Neoteric Hovercraft instructor Steven Stafford also founded Project H.E.R.O, which stands for Hovercraft Emergency Response Operations. It's a non-profit group that deploys hovercraft in disasters and assists police and rescue agencies.

Project H.E.R.O has used hovercrafts to assist the Indiana State Police, the FBI, and the DEA