Business Advice: SCORE provides free counseling services, 'expert opinions'
Tribune-Star, Terre Haute, Indiana USA
23 October 2011
by Arthur Foulkes
Even well-established Terre Haute companies — such as Neoteric Hovercraft — can benefit from the depth of business experience offered by SCORE, the Service Corps of Retired Executives. The Terre Haute SCORE chapter, which operates out of Duke Energy-provided offices at 301 Home Ave., recently offered valuable business advice to Neoteric, a long-established maker of hovercraft located in Terre Haute.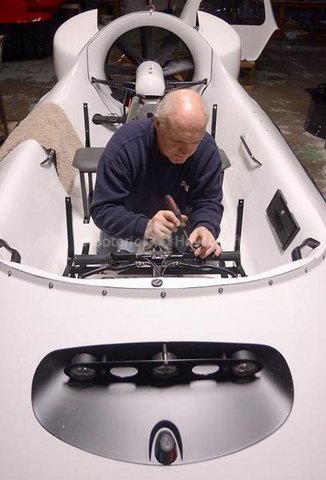 Handmade: Assembly Technician Neil Murtagh of Neoteric Hovercraft works on
the steering of a hovercraft during its manufacture.
Photos by Joseph C. Garza
Neoteric executives contacted SCORE when the hovercraft makers were trying to decide whether to jump through all of the costly and time-consuming hoops required to become part of the federal government's General Services Administration pricing system. Becoming part of the GSA would allow Neoteric to more easily sell hovercraft to government entities, but it also comes with a great deal of red tape.

In the end, two SCORE volunteers, retired executives Tom Tucker and Bob McLaughlin, recommended against Neoteric joining the GSA system at this time. It was advice Neoteric did not have to follow, but they did.
"We needed a third party, expert opinion and that's what they provided for us," said Ralph Weas, business manager at Neoteric, which is across from Ben Franklin School on Tippecanoe Street in Terre Haute. "They were very helpful."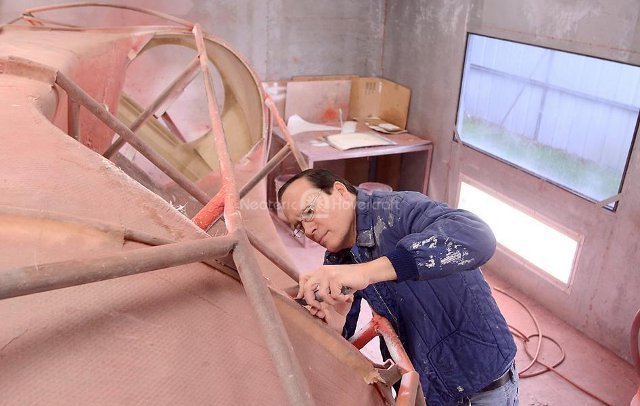 By hand: Mark Dial, manager of fiberglass manufacturing at Neoteric, finishes out a hovercraft body in a mold during its production.
Tucker and McLaughlin worked with Neoteric for a combined period of more than 40 hours, McLaughlin said. Weighing the pros and cons of joining the GSA system was a "tough decision," he said.
The business counseling services provided by SCORE, which is a nonprofit organization with headquarters in Virginia, is free of charge. The organization is a business partner with the U.S. Small Business Administration, which provides $800 annually to the local chapter. Duke Energy donates the office space, utilities and equipment, McLaughlin noted.

Neoteric Hovercraft, while a long-established company, is still essentially a small business, Weas noted. The company has only about 12 employees at its multi-building facility. Most of its building space is used for the production of new hovercraft, which the company sells around the world. In addition to years of business experience, SCORE volunteers also retain dozens of valuable business contacts. In that regard, SCORE was able to help Neoteric, Weas said.
"You think you can get on the Internet and get all the answers," Weas said. "But you can't."
Neoteric customizes its hovercraft for its customers, who include emergency rescue agencies, recreational and commercial users, Weas said.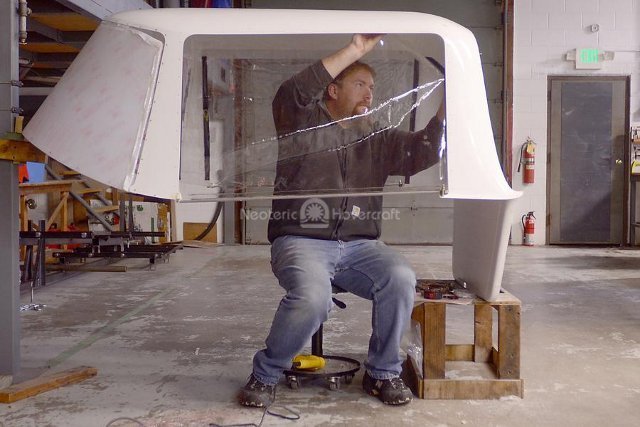 Neoteric technician John Tabor installs a window into a removable hovercraft cabin during its manufacture.
"Most of our business is still overseas," Weas said, adding the company has sold hovercraft to buyers in more than 50 counties including Sweden, Finland, China, Russia, Italy and South Korea.

At some point, Neoteric may make the jump into the GSA system. For now, however, the costs appear to outweigh the benefits. In making that difficult decision, SCORE was a valuable resource.

"With [SCORE], you're getting an honest, third-party opinion from people who have been in business for years and years," Weas said. "These guys can walk into a business and see right away what's going on."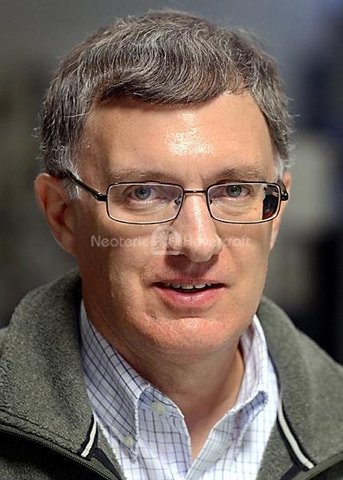 Ralph Weas, Business Manager at Neoteric Hovercraft, Inc.
So what's in it for the SCORE volunteers? "We're all retired," McLaughlin said. "You know, when you're retired, you've still got to keep busy." Last year, the Terre Haute SCORE chapter, which is open between 9 a.m. and noon Monday through Friday, saw about 75 clients. This year, the organization has only seen between 45 and 50, McLaughlin said.

SCORE is not a source for loans or capital, it simply provides business advice. The organization does its best work with clients who have a clear business plan in mind, McLaughlin said.

"That's where we really do a lot of good," he said. "I get a lot of satisfaction out of it."

The Terre Haute SCORE offices can be contacted at (812) 231-6763.