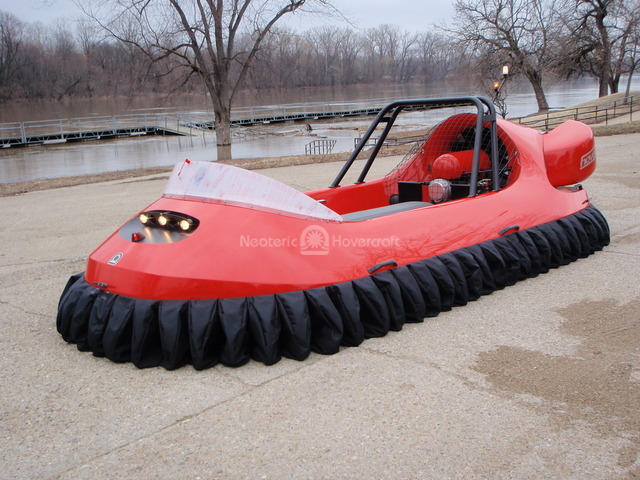 This Neoteric rescue hovercraft, owned by the Pewaukee
Fire Department in Waukesha, Wisconsin, is the type of
hovercraft the Roswell Fire Department will soon be using
in rescue operations on local waters.
If and when the Roswell Fire Department is ever called to another emergency rescue situation like they were last month, they will be ready thanks to a newly obtained hovercraft.

The Roswell City Council recently approved the purchase of the hovercraft during its April 25 meeting. However, the city's monetary contribution was only $9,995.33 in supplement to the $48,469 Homeland Security Grant Roswell was awarded last year for a new swift water rescue boat.

The first boat the department tested on local waters at had to be towed back to the launch pad, Chief Ricky Spencer told the council during the April 25 meeting.

"We knew right then we weren't getting that one," he said.

The decision to purchase the Neoteric HoverTrek™ rescue hovercraft was an easy one once the department saw its capabilities.

It "has the ability to launch in any type of terrain and functioning in any class or nature of water emergency including boat/watercraft rescue, water and ice related rescue, swift water rescue, and swimming/recreational rescue," according to the council budget amendment. In total, the hovercraft cost $58,464.33. But it's a purchase well worth it, since the fire department will now have no issues navigating the river during rescue operations, according to Spencer.

He told Roswell Patch the city expects to receive the vehicle in approximately three weeks.