PGA of America
July 17, 2013
By John Holmes
Buy your own hovercraft golf cart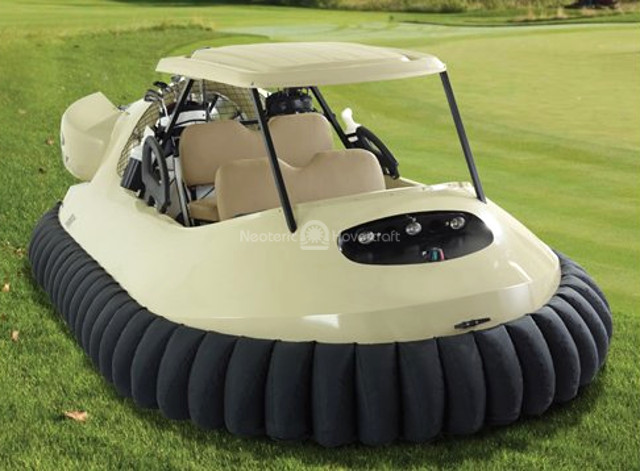 The hovercraft golf cart is perfect for anyone in search of a head-turning
way to levitate around the links. Hammacher-Schlemmer photo
Jammed in my usual stack of junk mail today was a catalog from gadgeteer extraordinaire Hammacher Schlemmer. And on the cover – a golf cart hovercraft.
Yes, a golf cart hovercraft like the one Bubba Watson zooms around in on YouTube, and the ones soon to be available for rent at Windy Knoll Golf Club in Ohio – one that you can buy for your own self.
''This is the golf cart that glides over sand traps and water hazards on a cushion of air as easily as it does over fairways and the rough,'' the Hammacher Schlemmer website says. ''Powered by a 65-hp twin-cylinder Hirth engine, its nine-blade axial-flow ducted fan propels the craft up to 45 mph and 9" off the ground without harming grass, allowing immediate crossing of a pond or stream to follow-up a cross-water shot.
''The fan's streamlined design minimizes noise, speeds up an 18-hole outing, and conveys four passengers beneath a lift-up roof and two golf bags in an open rear compartment,'' it adds, though I'm not sure why they'd make one that could hold four people but only two bags.
Anyway, the site says the hovercraft's ''low-profile, aerodynamic design minimizes air drag to maximize stability in crosswinds while its innovative skirt system employs individually handmade segments to provide optimal anti-plow and -scoop performance. The craft's fiberglass composite and urethane foam composite hull meets United States Coast Guard standards for reliable hovering over water.''
The hovercraft weighs 600 pounds when sitting unloaded on the ground. And it retails for a mere $58,000 – pretty expensive for a golf cart, but a bargain for anyone in search of a head-turning way to levitate around the links, or anywhere else for that matter.
If you're interested, check it out here. But remember, I call shotgun.