Rowlett Lakeshore Times
April 23, 2014
By Kevin Cummings
Man thrown off bridge on I-30
The water levels at Lake Ray Hubbard have dropped due to the ongoing drought, leaving large portions of the lake bed open.
Between 9 and 10 p.m. April 16, Mario Ottesen was thrown off a bridge on Interstate-30 after accepting a ride from a van full of strangers. He fell about 25 feet to the dry lake bed.
"They picked him up at some point and offered him a ride, drove almost to end of bridge," said Lt. Max Geron with the Dallas Police Department. "They stopped suddenly, grabbed him and threw him off the bridge."
Dallas police responded to the call, because the roadways over Lake Ray Hubbard are under the jurisdiction of Dallas not Rowlett. Geron said four or five men around age 20 offered Ottesen a ride in a white van. He suffered no serious injuries in the fall; however, after attempting to walk to the shoreline, Ottesen got stuck in thick mud left by the receded waters.
"Thankfully he had his cell phone with him, and he was able to call 911," Geron said.
Due to the difficulty in reaching Ottesen, Wylie Fire-Rescue was called on to use their hovercraft. The hovercraft's main use is to rescue people during urban flooding and swift water situations, but Chief Brandon Blythe of the Wylie Fire Department said it was the perfect tool to pull Ottesen from the mud.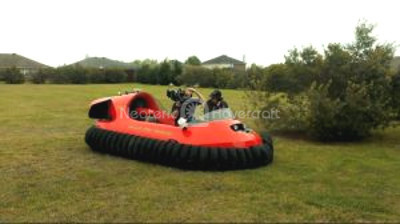 Chief Blythe operates the Neoteric hovercraft used to rescue Mario Ottesen from the mud after being thrown from a bridge on I-30.
Photo courtesy city of Wylie.
"We train our guys to operate the hovercraft, and it has the advantage to be able to operate on water; it's got a wide base, they basically just flew out to him and gave some footing to pull him up," Blythe said.
Blythe said the difficulty Ottesen had in getting out was because while the top layer of the lake bed may be dry, long-term saturation leaves the layers beneath very muddy. The mud created a suction as Ottesen tried to pull himself free.
Dallas police are still searching for the suspects and are asking if anyone has information on the white van or suspicious activity on the bridge. The suspects could face aggravated assault charges.