'Bubba's Hover'
Viral Internet video casts enormous light on Terre Haute business, Neoteric Hovercraft
Workforce may have to be doubled because of publicity, Neoteric's president says
Tribune Star
7 April 2013
By Arthur Foulkes
TERRE HAUTE — A well-executed Internet publicity stunt is delivering loads of potential new business to a small Terre Haute company now facing skyrocketing demand for its unusual product.
Last week, Thinkmodo, a New York City-based advertising agency that specializes in creating "viral" Internet videos, released a short video of PGA golf professional, and defending Master's champion, Bubba Watson flying around in a hovercraft designed to serve as a golf cart.
As hoped, "Bubba's Hover" soon went "viral," bringing lots of attention to Watson and his corporate sponsor, Oakley, a sports apparel maker.
But, at the same time, the video has also cast enormous light on Neoteric Hovercraft, the normally quiet, long-time Terre Haute business that produced the hovering golf cart.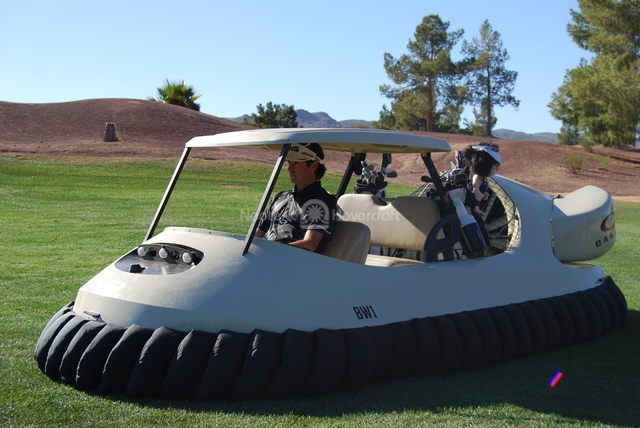 Cruisin' around:
2012 Master's champion Bubba Watson sits at the helm of BW1, his hovercraft made by Terre Haute's Neoteric Hovercraft.
Taming the Monster

When Thinkmodo approached Neoteric with the idea of a golf cart hovercraft, Watson's name was not mentioned, said Chris Fitzgerald, Neoteric's founder and president. Having seen a lot of "harebrained schemes" in his more than 30-years in the business, Fitzgerald, a native of Australia, was skeptical at first but eventually decided to go along.

And did that decision ever pay off.

"We've gotta control this monster," Fitzgerald said of the burst of publicity and opportunity the video has created for his company. Golf course owners and developers from around the world are among the droves of people contacting Neoteric about ordering duplicates of "Bubba's Hover."

Most years, Neoteric sells about 35 hovercraft from its completely nondescript compound near Franklin Elementary school on Terre Haute's near north-east side. Future sales figures appear certain to blow that away.

"My gut feeling is, right now, we could easily jump to 200" sales annually, Fitzgerald said. "I'm being realistic. I think we could go to 200."

What's more, Neoteric's workforce would clearly have to increase from its current level of 20, creating much-needed jobs in Vigo County, where unemployment was a depressing 11.4 percent in January, according to the latest state figures.

"We could easily have to double that [workforce figure] pretty much straight-away," Fitzgerald said.

Risks and Rewards

The Bubba's Hover video project was a top secret effort orchestrated by Thinkmodo, which has become well known for staged Internet videos, including an infamous fake murder in an elevator. The company received criticism for the phony murder, but is getting cheered for this latest effort. Company executives were guests on NBC's Today Show Friday, along with Bubba's Hover itself.

"This is an incredibly brilliant marketing concept," Fitzgerald said of the project, which was designed to create attention not just for Watson but for Oakley. "This whole thing is a cutting-edge marketing concept that uses the Internet and viral videos and we've gotten ensnared in it."

Although just a pawn in the bigger marketing scheme, Neoteric is benefiting hugely from the attention. The company's website has received hundreds of thousands of "hits" since the video was released.

But, along with opportunity, the new attention brings risks, Fitzgerald said. The company will have to carefully manage the flood of potential new business, he said. Among other things, Neoteric has recently become the target of malicious cyber attacks, he said.

"I'm trying to set up an emergency management team," Fitzgerald said, adding he is once again using the expertise of retired Wabash Valley executives in the local SCORE chapter, who have helped the small business handle big decisions in the past.

Slow down Matt

Fitzgerald and Filip Przybysz, Neoteric's director of marketing and communications, were in Phoenix to take part in the filming of Bubba's Hover. While there, Fitzgerald trained Watson in how to pilot the hovercraft and even makes an appearance in the video, which had received nearly 5 million "hits" late Friday.

Watson was a careful pilot of the hovercraft, "and wisely so," Fitzgerald said.

The video was shot at The Raven, a Phoenix golf course early in the morning before golfers showed up. The gang at Thinkmodo were terrified that a golfer would take a cell phone picture of Bubba in the vehicle and ruin the April 2 release date surprise, Fitzgerald said. As a result, they all worked hard to stay far away from golfers and others at the course.

After the successful video shoot in Phoenix, Fitzgerald had to again take the BW1, as the hovercraft was named, to New York for its appearance on the NBC Today Show. For that, Thinkmodo again produced a video, this time featuring the program's hosts Matt Lauer and Al Roker driving the craft.

Fitzgerald trained Lauer on how to pilot the hovercraft.

"Matt, you've got to slow down and, whatever you do, you can't cut the power," Fitzgerald said he told Lauer, whom he described as an unusually skilled hovercraft pilot for a first-timer.

"He was terrific," Fitzgerald said of Lauer. "He listened really well. He listened to the theory … On top of everything else, he was a terrific actor."

Mind the lake

Making the BW1 cost around $50,000, Fitzgerald said. A standard hovercraft is about $35,000, but Neoteric went to a lot of effort to make Bubba's Hover match perfectly with the other golf carts at The Raven. The four-seater craft also had to be secretly transported by trailer to Phoenix.

"We had to travel at nighttime," Fitzgerald said. "They didn't want anybody photographing this. We had to take all the bits off so it didn't look like a golf cart."

After the Arizona trip, Fitzgerald hauled the BW1 back to Terre Haute and then to New York, where it was filmed at Bedminster, a Donald Trump golf course built on the former estate of automobile developer John DeLorean.

At Bedminster, Fitzgerald had to drive the BW1 past the DeLorean estate while actors looked out of the windows in surprise. That one scene required, "unbelievably," about 20 takes, Fitzgerald said, adding that the uneven terrain required him to throw the craft into reverse to avoid floating into a lake.

"There was every possibility that I would have gone hurtling out into the lake," Fitzgerald said. "It's nerve-racking enough, but when they throw in these things, it's even worse."

Masterly timing

The timing of the Bubba's Hover video, about a week before the start of the 2013 Master's where Watson is defending champion, is perfect to draw even more attention to Watson, Oakley and Neoteric Hovercraft. And this means even more possibilities for growth and expansion at the Terre Haute business.

"This sort of thing is like being on James Bond," Fitzgerald said of the attention his company is receiving. Training people to use hovercraft is a big part of the Neoteric game plan for the future and is also a big part of what it does today. Fitzgerald remains a strong believer in making sure his customers learn to handle a hovercraft before they purchase one.

"Anybody operating one of these on a golf course will have to be trained," Fitzgerald said. "People think of a hovercraft like a jet ski or a boat. Actually, it's more like an aircraft."

Meanwhile, the future for Neoteric, which also hopes to offer training services to the U.S. military for its hovercraft pilots, looks bright. And busy.

"This whole thing has gone extremely well," Fitzgerald said. "Nothing went wrong. It was one of those once-in-a-lifetime adventures, and it's not over."