FastTIMES
Environmental & Engineering Geophysical Society
September 2014
Tetra Tech MEC/UXO Detection System Deploys via Neoteric Hovercraft
Tetra Tech, Inc., in collaboration with Neoteric Hovercraft, Inc., has produced a new environmentally-sensitive munitions detection system capable of accessing shallow areas where no other watercraft is able to travel and where sensitive habitat is only inches beneath the water's surface. Tetra Tech's in-house developed TEMA (Towed Electromagnetic Array) attaches to the company's customized Neoteric hovercraft to permit MEC/UXO detection in areas previously accessible only by more expensive, less sensitive aircraft-based systems.
Richard Funk, Senior Geophysicist with Tetra Tech's Marine Mapping Group, describes the TEMA's unique features: "Unlike a magnetometer, the TEMA is an active sensor that can detect all metals, ferrous and non-ferrous. Its detectors are focused, so they're not affected by nearby metal structures such as piers, bulkheads and bridges. Data from all devices – multiple high-power EM sensors, altimeters, positioning sensors and video/still cameras – is recorded in real time. The 3-meter swath coverage and the use of high-power EM units increases survey power, with lower operational costs and better detection capabilities."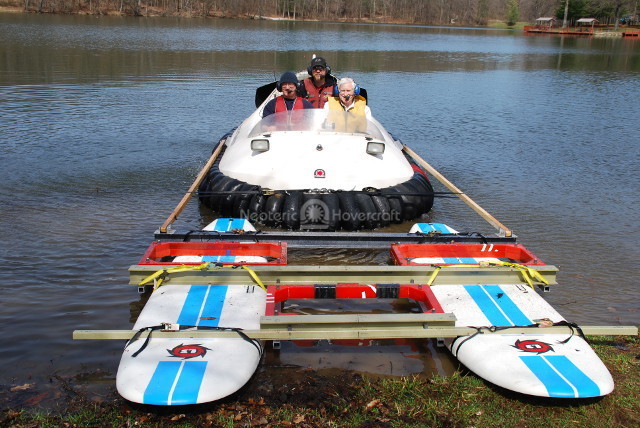 In an early prototype developmental model Neoteric hovercraft,the TEMA system is tested and evaluated to determine the optimal
pivoting and pushing system.
Tetra Tech has researched the use of hovercraft for MEC/UXO survey for many years, particularly for use in difficult areas for data collection, such as shorelines and surf zones. "Our goal is to push it to the next level so we can go where other people can't go," Funk says, "A hovercraft takes you places you can't go with conventional craft, places that are too shallow for a boat, places you can't walk."
Tetra Tech selected Neoteric to manufacture their hovercraft because "Neoteric's HoverTrek™ outmaneuvers other hovercraft on the market, and our projects demand that increased control," said Funk. "Additionally, Neoteric has decades of experience custom-manufacturing their hovercraft to client specifications, and we were impressed by the company's mandate that repeated testing be performed throughout the customization of our hovercraft." The craft's customizations include mounting points for the TEMA sensor array, mounts for the electronics modules, mounts for the pilot's display and data collectors' displays, a table for data collectors, TEMA battery mounts, GPS antenna mounts, and a bimini top.
The unusual maneuverability of the Neoteric hovercraft is attained through a patented fly-by-wire reverse thrust system, which makes it the only hovercraft on the market with effective brakes. As Neoteric President Chris Fitzgerald explains, "Our reverse thrust system surpasses jet aircraft in efficiency; while most aircraft deliver an average of 18 percent thrust in reverse, the HoverTrek™ delivers 60 percent. Unlike other hovercraft, the HoverTrek™ can fly backward, spin, and hover over ice and on swift water."
Tetra Tech will deploy its new hovercraft-based munitions detection system in early 2015 to conduct Phase 2 of an ongoing MEC/UXO remedial investigation and feasibility study at a Defense Environmental Restoration Program (DERP) for Formerly Used Defense sites (FUDS) area in the Caribbean. The site was an impact range for aerial bombs and rockets, missiles, mortars and naval projectiles from 1903 until 1975.
The entire site comprises 1,030 acres; the area to be surveyed with the TEMA-equipped Neoteric hovercraft is more than 200 acres of shallow coral reefs with listed and protected corals. This area was originally excluded from the survey due to the potential for damaging the coral. By using the Neoteric HoverTrek™, which hovers nine inches above the surface of the water, Tetra Tech can now complete the survey with confidence that the coral reefs are in no danger of harm.
The pairing of the TEMA system with the Neoteric hovercraft's low environmental footprint - less than 1/30th that of a human foot – is an excellent example of how the perfect vehicle for the job can also be the perfect vehicle for the environment, allowing personnel to work safely and efficiently while protecting sensitive habitat.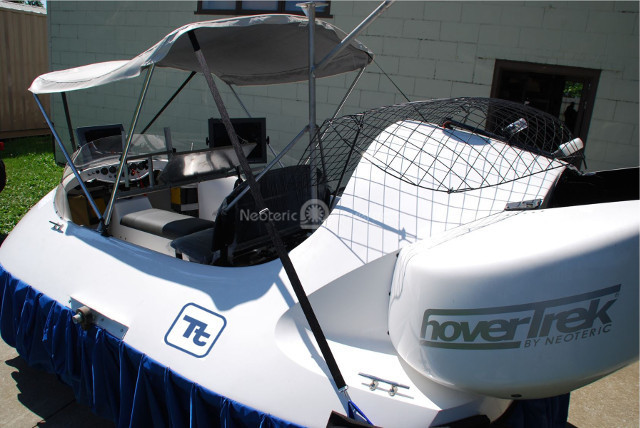 Tetra Tech's fully customized Neoteric HoverTrek™is prepared for its final over-water testing.
About Tetra Tech:
Founded in 1966, Tetra Tech is a consulting, engineering, construction management and technical services firm with 14,000 employees and 330 offices worldwide. Based in Pasadena, California, Tetra Tech has decades of experience with MEC/UXO detection and remediation for the U.S. Navy, U.S. Army Corps of Engineers and commercial clients.
www.tetratech.com
About Neoteric Hovercraft, Inc.:
Founded in 1960 and based in Terre Haute, Indiana, Neoteric Hovercraft, Inc. is the world's original light hovercraft manufacturer. The Neoteric HoverTrek™, the only hovercraft in the industry with effective brakes, is utilized in commercial, rescue, recreational and military operations in more than 50 countries.
www.neoterichovercraft.com