Fire Department tries out hovercraft
Times & Transcript, Moncton, New Brunswick, Canada
3 October 2012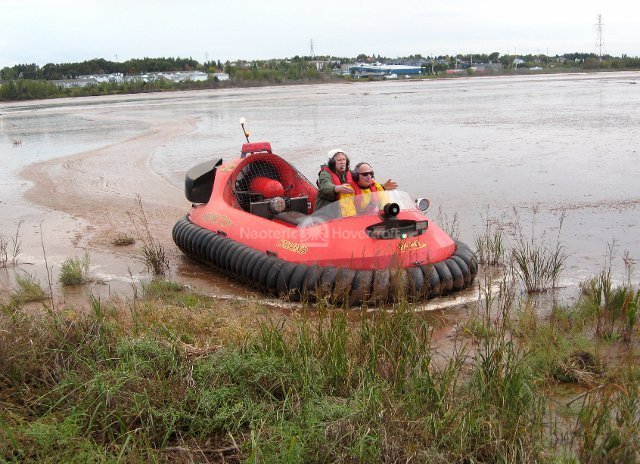 Neoteric President Chris Fitzgerald and Moncton Fire Captain Steve Crawford demonstrate how mudflats are not a challenge
for the department's new rescue hovercraft. (Neoteric Hovercraft photo)
Moncton Fire Department Captain Steve Crawford said it was a "strange sensation" to have the department's new hovercraft run him over in the city's McLaughlin Road reservoir yesterday. Crawford played the victim in a morning demonstration where the fire department showed off its latest piece of high-tech emergency equipment, which in the hands of some people might simply serve as a really cool $80,000 recreational vehicle.

Crawford - wearing a helmet and life jacket - was dropped into the water, and then the hovercraft, piloted by Neoteric Hovercraft, Inc. founder Christopher Fitzgerald, drove out to rescue him. The vehicle went from land to water effortlessly, like a car driving on freshly paved asphalt, and zipped across the water to where Crawford was waiting.
To demonstrate just how safe the craft is, Fitzgerald literally drove over Crawford before the sopping wet firefighter was scooped out of the water by fellow firefighter Randy Carter.
"You know it's not going to hurt you, but it's a strange sensation to have any sort of craft fly over you," Crawford said moments later.
Because he was wearing safety gear that kept him afloat, Crawford actually had to try to push himself down in the water a bit so he could get under the hovercraft. A person in need of rescue typically wouldn't be so lucky to have any gear protecting them.
The Neoteric six-man rescue hovercraft is the latest piece of rescue equipment acquired by the fire department. "It's not like your standard vehicle, be it a car or a boat," said Moncton Fire Chief Eric Arsenault. "It acts more like a helicopter than anything else. You're actually flying the hovercraft on a cushion of air. You're not going as high as a helicopter, but the principles that apply to flying helicopters apply to hovercraft."

Arsenault said the craft, which can hover about nine inches (or 23 centimetres) off the ground, is ideal for water, mud and ice rescues where traditional vehicles might not be able to travel.
"In Moncton we're challenged with many things, especially when it comes to water rescue," he said, noting the Petitcodiac River and other bodies of water can be difficult to navigate. The opening of the Petitcodiac causeway gates two years ago brought on new challenges as large mud flats became exposed, another area where a hovercraft could prove useful during rescues.
Arsenault said the hovercraft is a "great addition to our toolbox," adding it is quicker to deploy than a boat. The hovercraft can be taken from its trailer and be in the water in minutes.
The fire chief said it will still be about a month before the department will be able to use the craft as training is still underway. Firefighters who have taken an interest in swift water rescues are being taught to use the machine first. About 15 will be trained on the hovercraft initially, with more to be taught in the future. Fitzgerald noted rescue hovercraft are typically used 90 per cent of the time for training and only about 10 per cent for actual rescues. After 1,000 hours, the engines require major servicing.
Arsenault said any time there is a water rescue required in the tri-community, Moncton, Dieppe and Riverview firefighters will respond. Riverview and Dieppe each own different-sized Zodiac boats which will come in handy for some water rescues. Moncton also owns a Kubota vehicle and an ATV for land rescues.

Believed to be the first rescue hovercraft sold in Atlantic Canada, Moncton's hovercraft was purchased from Neoteric Hovercraft, Inc., which is based in Terre Haute, Indiana. It can hold up to 1,025 pounds (466 kilograms). There will be two firefighters on board during a rescue, and they aim to rescue two people at a time with the vessel.
The hovercraft can reach speeds of up to 80 kilometres per hour (50 miles per hour) but there are recommended maximums depending on the surface it's travelling on. The vessel can also travel in reverse at speeds up to 40 km/h (25 mph).

Fitzgerald has been piloting hovercraft for 50 years. He said in those early years, many wondered if a small hovercraft could ever be made. "Most of the hovercraft were big, big military craft or craft that went across the English Channel that could carry 600 people," he said.
Fitzgerald said a hovercraft is like a "poor man's helicopter." It can serve many of the same rescue functions, but more safely, he said. He said it is extremely important to have proper training for handling the machines, and he applauded the Moncton Fire Department for its efforts.
Fitzgerald said 600 people drown in ice-related accidents in the United States each year, but many rescue organizations have not yet adopted the hovercraft as a tool. "You need fire departments like Moncton that are prepared to be first adopters," he said. "They're really pioneers."

Moncton Councilor Pierre Boudreau was on hand for the demonstration yesterday, and he was taken for a trip on the hovercraft.
"The acquisition was considered to be an essential part of our emergency rescue unit for the Moncton Fire Department," Boudreau said. "It does things that no other vehicle - motorized or other - can do."

He said it will help make rescues easier and safer for the public and for firefighters.