Mansfield firefighters train to use rescue hovercraft
The Dallas Morning News
17 April 2013
By Haley Thayer
Mansfield firefighters now have something in common with PGA Tour bomber Bubba Watson: they can skim across all kinds of surfaces in a state-of-the-art hovercraft.
Firefighters have been training this week to pilot the Mansfield Fire Department's new water-rescue craft built by Neoteric, the same company that built a golf-cart version for Watson, the freewheeling 2012 Masters champion known for hitting prodigious drives with pink-shafted clubs.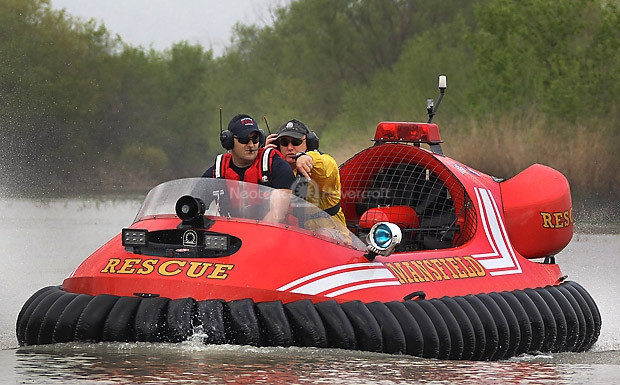 Josh Planas of the Mansfield Fire Department (front)
gets instruction from Steve Stafford during hovercraft
pilot training Wednesday on Joe Pool Lake in Grand Prairie. (Louis DeLuca, Dallas Morning News)
The pilots-in-training got on the water today at Joe Pool Lake. Capt. William Franks said the department recently bought the hovercraft, which cost about $40,000, to make maneuvering easier in lake rescues and floods. He said the idea was first floated 10 to 15 years ago.
"The benefit of having these vehicles is we do not have to send our personnel into the water to retrieve victims," Franks said. "They are also able to hover over logs, car tires and any other debris, unlike boats, that could be a hazard in the water."
The pilots' training consists of 4 1/2 hours of classroom instruction, two hours of maintenance training to understand how the vehicle works, and, finally, 10 hours of live training on the water.
The rescue hovercraft can travel up to 45 mph on any surface, including water, concrete, grass and gravel. It can carry up to three people. In a rescue situation, it would be manned by two fire-rescue personnel.
"If the hovercraft proves to be far and above more useful than a regular boat, we will potentially purchase one more," Franks said. "Everyone is really excited and ready to start using them."
Watch the flight training video