Engineering & Mining Journal
May 6, 2015
(The following is an excerpt from an E&MJ feature article)
Clearing the Air
An expanding universe of dust suppression products offers producers more options to take control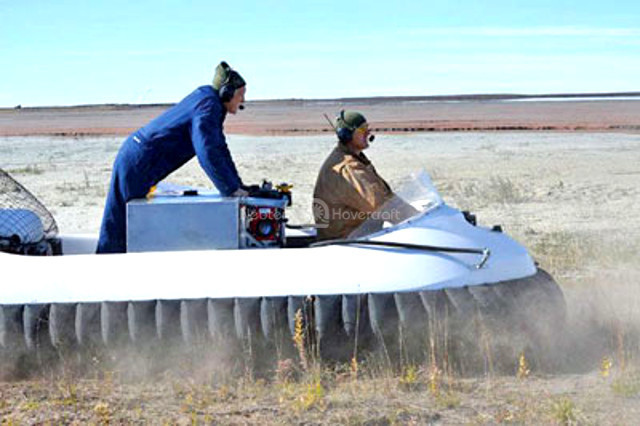 A landscape service company in the U.S. has been using hovercraft to apply sprayed dust-suppression chemicals on mine tailings that are too soft to support conventional vehicles.
For the mining industry, dust and water are important, costly commodities that generally lie at opposite ends of the desirability spectrum, yet they're often closely linked by quantitative concerns: Too much of either can cause major problems leading to higher operating costs and reduced productivity.
As always, manufacturers are integrating improved technology into the latest versions of their dust suppression equipment, offering the potential for better performance and lower costs.
At the same time, the growing value of water for non-industrial uses is prompting specialty chemical suppliers to develop more efficient and environmentally friendly dust suppression products. And—although they haven't been developed specifically for dust control—new products for land reclamation, rehabilitation and site access provide opportunities to avoid dust generation in the first place. Here's a sampling of recent developments:
In the Open
When you think of vehicles used in mining operations, a hovercraft may not come to mind—unless you have the ingenuity of D&T Landscaping, located in the Midwestern U.S. The company is under contract to manage environmental hazards, such as blowing dust, at a major taconite mining region on the Mesabi Iron Range in Minnesota.
Owner David Olson explained why he is using two hovercraft to increase the reach and speed of his company's dust suppression efforts: "We've used tractors and piston bullies, but they don't work well in a soft environment. The surface is like quicksand; it does build a crust as it starts to dry, but you can't stand or walk on it. Our situation is basically mud. To use a liquid dust suppression agent on the tailings, we needed to be able to get out to places where our current technology doesn't take us."
Each of D&T Landscaping's hovercraft is capable of carrying 100 gallons of dust suppression agent, fuel, a pilot and a specially designed lightweight spraying system. The hovercraft were built by Neoteric Hovercraft, Inc., based in Terre Haute, Indiana, USA.
According to the landscaping company, hovercraft not only expand access to areas that are difficult or impossible for other vehicles to reach, they also operate less expensively than other vehicles and cannot become stuck in the mud. The hovercraft also frees the company from a need to rely on outside services such as helicopters, which had been used in the past to attempt to manage blowing dust. Helicopters come with high operational costs per hour and, unlike hovercraft, are limited by weather and visibility. In addition, hovercraft pilots are not required to be compliant with FAA regulations, so they can operate longer and more often than helicopter pilots.