Inside INdiana Business
July 25, 2013
Hovercraft Maker Strikes Deal With Ohio Golf Course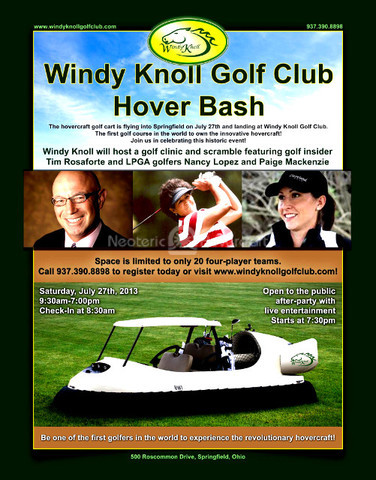 Terre Haute, Ind. -- Imagine a golfing world where the entire course is your cart path. Where water hazards are made to sail over, not scoot around.

This scenario out of "The Jetsons" is about to be reality at Windy Knoll Golf Club. On Saturday, July 27, the Springfield, Ohio, course will be the first in the United States to feature two Neoteric Golf hovercraft for use as golf carts.

World Golf Hall of Famer Nancy Lopez and LPGA player Paige Mackenzie will be on hand for the day-long Hover Bash, along with Tim Rosaforte of NBC, Golf Channel and Golf Digest, who will serve as emcee for the news conference and dinner that follows the golf event that day.

Located 30 minutes from Dayton and 45 minutes from Columbus, Windy Knoll is a public-access, links-style course located on the site of a former horse farm, which explains its logo.

It was known as a site for former thoroughbreds. That is, until Managing Director Pete Duffey seized the opportunity to make recreational golf history of a different horsepower. Duffey's revelation came after seeing the now-famous YouTube video of PGA Tour star Bubba Watson cruising the fairways in his "BW1" hovercraft. That video has received more than eight million hits.

"We wanted to be able to offer something no other course could," Duffey said. "A way to further put Windy Knoll Golf Club on the map of public destination golf courses. It was an easy decision. When we saw them on YouTube, we said 'We gotta have those!'"
The video brought an avalanche of publicity to Neoteric Hovercraft, the Terre Haute, Ind.,-based company that normally makes hovercraft for police, fire, the U.S. Air Force and Disney World, among other companies. Duffey said he and his cousin contacted the company immediately about obtaining two of the hovercrafts.

"We're excited that Windy Knoll has earned the honor of owning the very first two models of Neoteric's Signature Series Hovercraft Golf Carts," said Chris Fitzgerald, Neoteric's president.
"As central Ohio's premier links-style golf course, it's only fitting that Windy Knoll is the leader among golf courses to join the family of air cushion vehicles – a prominent group that includes Disney World, the U.S. Air Force, and sheriff, police and fire departments worldwide."

Each Windy Knoll hovercraft will feature a 65-horsepower engine capable of reaching speeds up to 50 mph, side-by-side seating for up to four passengers, a lift-up roof, room for two golf bags and sand bottles.

Filip Przybysz, Neoteric's director of marketing and communications, said the hovercraft are environmentally conscious vehicles, delivering a footprint pressure 33 times less than the human foot, or roughly the equivalent of a seagull standing on one leg. That makes them ideal for not only riding its cushion of air over sand traps and water hazards, but for parking players on the green.

Duffey sees his two hovercraft and the July 27 event marking their arrival not only bringing attention to his course, but will make Windy Knoll the de-facto course for special events in the southern and central Ohio and eastern Indiana areas – and perhaps beyond.

"We rely on golf scramble events throughout the season and the hovers offer yet another incentive for the entities scheduling and organizing the events to have them at Windy Knoll," he said. "Our preliminary plans are to offer the hovers to the events for an additional fee. We also plan to come up with a VIP golf package for foursomes wishing to use them.

"They will definitely not be for the average everyday group of golfers."

The July 27 event with Lopez, Mackenzie and Rosaforte will feature a press conference, golf with the opportunity to ride in one of the hovercraft, dinner, entertainment and fireworks. For more information, please contact Windy Knoll GC at 937-390-8898 or visit their website.
Watch Neoteric President Chris Fitzgerald discuss HoverGolf™ Cart technology
on Inside INdiana Business Television.