Tribune-Star
27 July 2013
By Dustyn Fatheree
Hovercraft Training Center?
Rep. Bucshon sees how military, first responders learn to use skill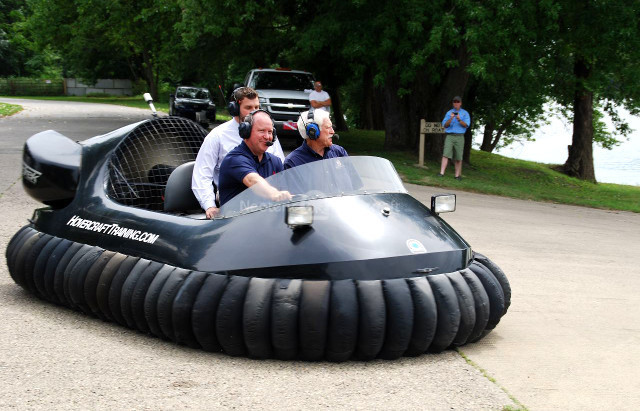 Congressman Larry Bucshon (left front) and his Deputy District Manager Matt Huckleby (rear) prepare for takeoff on the Wabash River in a Hovercraft Training Centers craft piloted by Neoteric President Chris Fitzgerald. HTC photo.
Larry Bucshon strapped on his wireless headset as a hovercraft lifted off the ground Friday at the Wabash River access ramp at Fairbanks Park.

Bucshon, Republican Congressman of the eighth district of Indiana, was accompanied by Chris Fitzgerald, president of Neoteric Hovercraft, and Matt Huckleby, his deputy district manager. The three enjoyed a ride around a portion of the Wabash River as a demonstration of how the hovercraft maneuvers.

"I am acting as an advocate," Bucshon said. "We do this for all sorts of different people in the district. We try to assist them."
Fitzgerald hopes to gain Bucshon's assistance in his pursuit to train nearly 500 Homeland Security members, (fire dept., police dept., etc.), civilians and military personnel in Terre Haute a year.

"This could bring in more jobs," Bucshon said. "A goal is job creation."
He said he would hear Fitzgerald's proposal and after interacting with staff, he would contact him [Fitzgerald] with his answer. The Dept. of Defense would make the decision on if they would let military personnel train in Terre Haute.
Fitzgerald said they already train fire and police personnel in Terre Haute. Currently, personnel in the military who receive basic training in hovercraft usage do so with simulators. Eventually, they will learn to fly a hovercraft. The hovercraft model currently used by military is larger than the craft Fitzgerald wants to use.



"A lot of people learning to drive a hovercraft drop out of the program because they use such a big and bulky model," he said. "We are using a smaller aircraft that is a bit easier to control and learn."
He said cost would be cut down to a fraction that the bigger models demand due to fuel and oil prices. The exact amount is unsure, he said, because the military hasn't provided any specific numbers to him.
The military would find a number of uses for a smaller craft, he said.
"Currently, they are being used to ship cargo to Pakistan, Korea and China," Fitzgerald added. "It is 33 times more expensive to use a helicopter instead of moving cargo with one of these hovercraft."
Meeting with Bucshon was a "starting process," he said.
"We will see what will happen in a year's time," he added. "I am just planting the seed at this stage."
After the demonstration on how a hovercraft works, Bucshon was given a tour of Neoteric Hovercraft, Inc. and how hovercraft are manufactured.
According to a press release, Neoteric Hovercraft, Inc. is internationally recognized in more than 50 nations for manufacturing light hovercraft. Its clientele include airport security, U.S. Border Patrol, The U.S. Air Force and police and fire depts. The company even has a model that is used on golf courses.