Neoteric Rescue Hovercraft to be featured at 2016 FDIC
March 10, 2016
FOR IMMEDIATE RELEASE
The FDIC (Fire Department Instructor Conference) is the world's largest fire training-based conference and exhibition, attended by more than 35,000 firefighters, fire chiefs, officers and instructors from more than 53 nations. It is the fire industry's most comprehensive exhibition, showcasing more than 1,000 companies who manufacture and supply firefighting/rescue apparatus and technology.
This year, Neoteric Hovercraft, Inc. and Hovercraft Training Centers are honored to be the only rescue hovercraft and hovercraft flight training exhibitor at the FDIC. The event will take place April 18-23 at the Lucas Oil Stadium and Indiana Convention Center in Indianapolis, IN …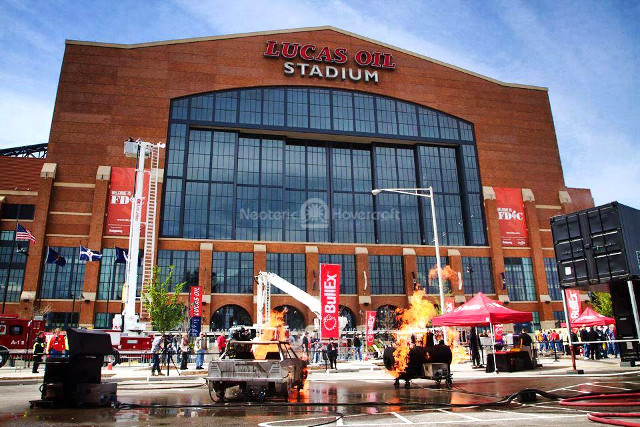 The FDIC is held at Lucas Oil Stadium and the Indiana Convention Center in Indianapolis. Opened in 2008, the Stadium replaced the RCA Dome as the home field of the Indianapolis Colts.
As a quick preview, here are photos taken during the hand-manufacture of the two Neoteric Rescue Hovercraft that will be on display at the FDIC …
| | |
| --- | --- |
| A stretcher mount is installed on the Neoteric 4-passenger rescue hovercraft to be exhibited at the FDIC. | The skirt retention strip is installed on the Neoteric 6-passenger rescue hovercraft, also to be on exhibit. |
It is only fitting that the FDIC, with its 87-year mission of training the fire service, is including Neoteric - the world's original light hovercraft manufacturer, whose rescue hovercraft have been saving lives safely for more than 40 years in over 50 countries.

Visit Neoteric at Booth 2540 during this year's FDIC to see the safest, fastest way to rescue ice, water, mud and flood victims. A Neoteric Rescue Hovercraft will take you where no other vehicle can go, on the only hovercraft with reverse thrust for braking and backing up – critical in rescue operations.

It's the most versatile rescue apparatus available. And a Neoteric Rescue Hovercraft keeps responders above the danger – not in it.

See photos & comments from first responders about their Neoteric Rescue Hovercraft …

Learn more about Neoteric Rescue Hovercraft ...