Neoteric Hovercraft Technology
---
Advanced Performance Testing
The Neoteric Hovertrek™ is the most thoroughly tested and monitored light hovercraft on the market. This ongoing meticulous evaluation allows Neoteric to define the performance envelope of all Neoteric hovercraft with such precision that our customers are able to confidently push their hovercraft to the absolute edge, without compromising safety. This high-tech evaluation is conducted at both Neoteric locations: Neoteric Hovercraft, Inc. in the United States and Neoteric Engineering Affiliates, Pty. Ltd. in Australia.
Three examples of Neoteric performance testing projects are described below:
RMIT Wind Tunnel Aerodynamics Modeling, Australia:
Classified aerodynamics testing on a new Neoteric hovercraft, designated Model 6153, is currently underway in Australia at the prestigious Royal Melbourne Institute of Technology School of Aerospace, Mechanical and Manufacturing Engineering (SAMME). Neoteric is in good company: the RMIT Wind Tunnel is used to advance the development of new vehicles for such manufacturers as Audi, Bentley, BMW and Rolls-Royce.
This Wind Tunnel testing is paving the way for a technological leap forward: a futuristic special limited edition Neoteric hovercraft, to be manufactured in the United States, that will capture world headlines and break world speed records.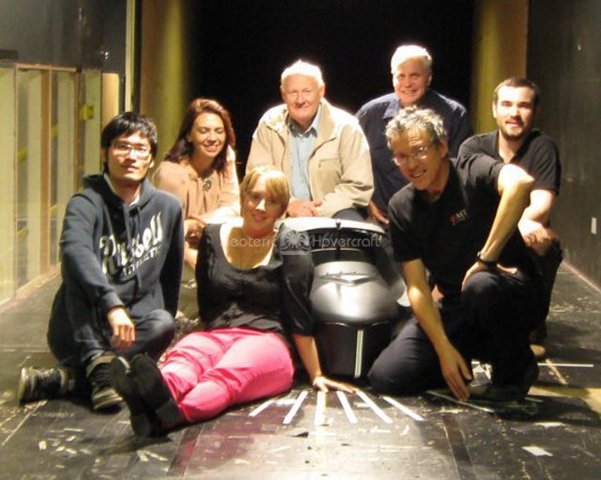 Sitting around a 1/3 scale model of Neoteric's High Speed Craft Model 6153 inside the RMIT industrial wind tunnel are Neoteric officers with research personnel from the School of Aerospace. Clockwise from left: Pisate Paisiriyuenyong, student; Louise Bester, RMIT Projects Coordinator; Rob Wilson, President, Neoteric Engineering Affiliates, Ptd. Ltd.; David Atkins, Design Engineer, Neoteric Hovercraft, Inc.; Dr. Caleb White, RMIT Program Director; Simon Watkins, RMIT Professor; and Sarah Budge, student.

Resonance Analysis; Engine Power and Torque, USA:

Torsional and linear resonance analyses, and engine power and torque measurements, are only two examples of the constant evaluation conducted on all models produced by Neoteric's manufacturing facility in the USA. From these measurements, factors such as stress are calculated and evaluated for critical components.

Neoteric is the only light hovercraft manufacturer to go to such lengths to ensure state-of-the-art quality for its customers. It is this dedication to ensuring maximum performance that has given the Neoteric Hovertrek™ global recognition for outstanding performance, reliability and safety.
| | |
| --- | --- |
| In the United States, a round of testing begins on the HoverTrek™. Such testing allows Neoteric to analyze vital operative factors such as stress; torsion and linear vibration; and engine power and torque. | After a run-up test, Neoteric President Chris Fitzgerald and a specialized engineering consultant check the delicate sensors used to monitor performance. |
Sound Level / Frequency Distribution Analysis; USA
Neoteric Hovercraft hold the distinctive honor of being the most quiet production hovercraft in the industry. This technological achievement is the result of Neoteric's rigorous attention to monitoring the sound produced by every component and system involved in the constant advancement of the Hovertrek™.
Below, a 360-degree sound profile is conducted on a Hovertrek™ running at full power. This evaluation allows Neoteric to determine if noise level reductions could be achieved through redesign of specific components.
In this 360-degree sound profile analysis, maximum DbA levels and frequency distribution of the sounds are recorded. This allows Neoteric to isolate the sound contributed by specific components: the exhaust, the intake, the engine, the thrust duct, and the fan.

The tests are conducted with the hovercraft's noise-contributing components selectively masked in lead shielding, or removed when possible, in order to isolate the noise that each produces. This reveals specific areas to be upgraded for noise reduction.